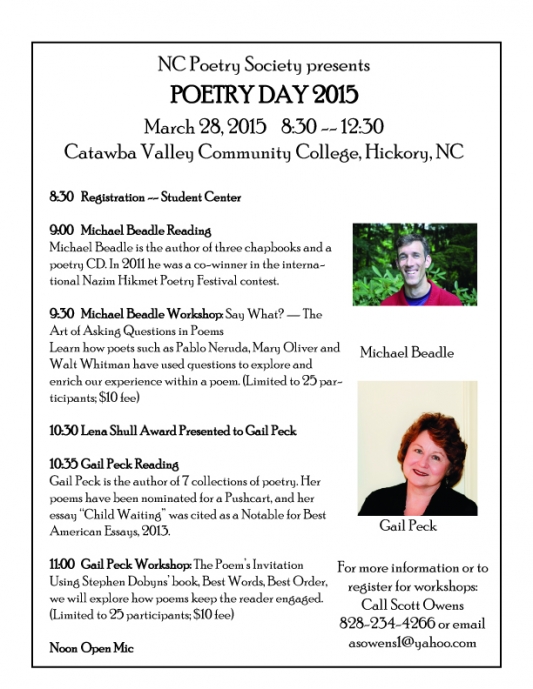 All NCPS members in attendance will be able to set out their books to sell.
Please call Scott Owens (828) 234-4266 with questions or to register for the workshops. Checks should be made out to NCPS and sent to Scott Owens, 838 4th Ave. Dr. NW, Hickory, NC 28601.
Student Center, Catawba Valley Community College
Hickory, NC

Schedule of Events 
9:00

     

Michael Beadle Reading
Michael Beadle is a poet, performer, author, and teaching artist living in Raleigh, NC. He is the author of three chapbooks and a poetry CD. In 2012, Michael served as one of three poets-in-residence at the NC Zoo in Asheboro, and in 2011 he was a co-winner in the international Nazim Hikmet Poetry Festival contest. He has also written or co-written four books on the history of Haywood County in western North Carolina. He teaches creative writing workshops for students of all ages throughout the state.
9:30

     

Michael Beadle Workshop
Say What? — The Art of Asking Questions in Poems
The poet Rainer Maria Rilke encouraged fellow writers to "Be patient toward all that is unsolved in your heart and try to love the questions themselves…." Questions help us delve deeper into experience and expand our understanding of the world around us. Sometimes it's not about finding the answers but having the courage to ask the questions. Learn how poets such as Pablo Neruda, Mary Oliver and Walt Whitman have used questions to explore and enrich our experience within a poem. Then, write some new questions into your poems. (Limited to 25 participants; $10 fee)
10:30

   

Lena Shull Award Presented to Gail Peck
10:35

   

Gail Peck Reading
Gail Peck is the author of 7 collections of poetry. Drop Zone, won the Texas Review Breakthrough Contest.

  

Other collections are Within Two Rooms, Thirst, Counting the Lost, From Terezin, Foreshadow, and New River which won the Harperprints Award.

  

Her poems have been nominated for a Pushcart, and her essay "Child Waiting" was cited as a Notable for Best American Essays, 2013.
11:00

   

Gail Peck Workshop
Using Stephen Dobyns' book, Best Words, Best Order, we will explore how poems keep the reader engaged.

  

Dobyns says, "A poem has emotion, idea, physical setting, image, rhythm and tension.

  

The degree that the poem is successful is the degree to which all these elements are made important to the reader." We will look closely at three poems to see how these various elements unfold. (Limited to 25 participants; $10 fee)
2:00     Art of Poetry at the Hickory Museum of Art: A reading of poems written in response to current art on display at the Hickory Museum of Art. The Hickory Museum of Art is located at 243 3rd Ave NE.