Congratulations to Steve Cushman, winner of the 2018 Lena Shull Book Award!
How Birds Fly was selected by our judge, Patricia Fargnioli
Mr. Cushman will receive $250 and 50 copies of his How Birds Fly, published by St. Andrews University Press.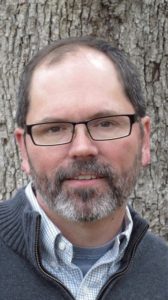 Steve Cushman earned his MFA in Creative Writing from UNC Greensboro.  His novel, Portisville, won the 2004 Novello Literary Award and was a finalist for the Independent Publisher's Book Award and Foreword Magazine's Book of the Year Award.  He is author of novels Heart With Joy (2010), Hopscotch (2017), and a short story collection, Fracture City (2008).  He has two poetry chapbooks: Hospital Work (2013) and Midnight Stroll (2015).  Steve will read from How Birds Fly at the NCPS meeting at Weymouth on March 10th and will read and offer a workshop at Poetry Day at Lenoir-Rhyne University on April 21st.
---
Past Winners
2017 Lena Shull Book Award Winner:
Janis Harrington, for Waiting for the Hurricane, selected by judge Patricia Jabbeh Wesley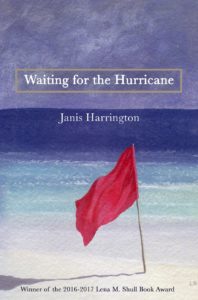 Waiting for the Hurricane is a collection of lyric narrative poems about three generations of Harrington's family.  Patricia Jabbeh Wesley, the contest judge, said: "These honest poems, the kind that remain with you, are about family in all of its complexities, its love-hate world of birthing, of wake keepings and funerals, its deep secrets and unforgivable sins."
Harrington's poems, stories, and essays have appeared in journals and anthologies in Europe and the USA, including Beyond Forgetting: Poetry and Prose about Alzheimer's Disease (Kent State University Press); New Southerner Anthology; The Homestead Review; Kakalak 2016; Off the Coast; and Midwestern Gothic.  She has a Masters degree in English with a Creative Writing focus from North Carolina State University.  She lives in Chapel Hill.
---
2016 Lena Shull Book Award Winner:
J. S. Absher, for Mouth Work, selected by judge Ann Garbett.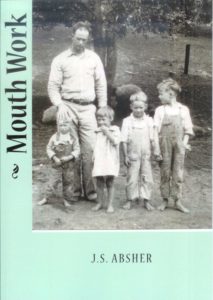 "Voice seems to me to be that elusive quality which immediately tells the reader the difference between Charles Simic and Billy Collins.  And I believe that freshness and invention are beyond the power of a judge to predict, though not to recognize….  J. S. Absher's Mouth Work is outstanding in all these qualities.  Throughout, Mouth Work offers a strong sense of place—Appalachia and North Carolina specifically, its rivers, its flora.  These poems speak for one who has teeth and stomach and faith for what's unseen in history and in ourselves."—Ann Garbett
J.S. Absher has been a missionary, offset printer, teller, janitor, records manager, editor, and consultant, sold mutual funds, and surveyed scrub timberland. Absher's poetry has been published or is forthcoming in numerous journals and anthologies, including Tar Heel Review, North Carolina Literary Review, Kakalak, and The Southern Poetry Anthology, VII: North Carolina. In addition to winning the 2015 Lena M. Shull Book Contest sponsored by the North Carolina Poetry Society, his work has been nominated for the Pushcart Prize and has won various prizes, most recently from Kakalak. He was named a finalist in the 2015 James Applewhite Poetry Prize competition. He has published two chapbooks, Night Weather (Cynosura Press, 2010), and The Burial of Anyce Shepherd (Main Street Rag Publications, 2006). An electronic edition of Night Weather was issued in 2016.
To read a review of Stan's book written by Susan Laughter Meyers and published in the 2017 issue of the North Carolina Literary Review, click here.
---
2015 Lena Shull Book Award Winner:
Gail Peck, for The Braided Light, selected by judge Tom Yuill.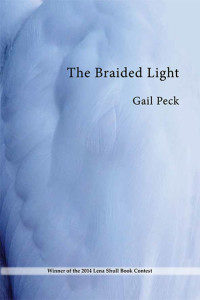 "In these luscious poems, emanating from the paintings of Claude Monet and Vincent van Gogh, other scapes emerge transfigured by the poet's eye. In 'Grand Decorations, the Clouds,' Peck writes, 'This is how I want death to be, not the white and white / of sheets . . . to mark the days. / Let me be lifted by the clouds .  . .' And what a refrain as the book unfolds on a plethora of scenes loaded with lilies, bridges, willows, sunflowers, crows and wheat fields. All this woven into the poignancy of the personal. Through it all, the poet walking us down a path of reinvention." — Julie Suk.
Gail Peck has published eight books of poetry: The Braided Light, Within Two Rooms, Counting The Lost, From Terezin, Thirst, Foreshadow, Drop Zone, and New River. Her poems and essays have appeared in numerous journals. Poems have also appeared in the anthologies The Southern Poetry Review Anthology, Word and Witness: 100 Years of Poetry in North Carolina (Carolina Academic Press); Uncommon Place: An Anthology of Louisiana Poets (LSU Press); and After Shocks: The Poetry of Recovery for Life-Shattering Events (Sante Lucia Books).
---
2014 Lena Shull Book Award Winner:
Becky Gould Gibson, for Heading Home, selected by judge Diane Lockward.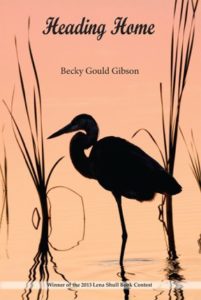 Heading Home concludes with a quotation from E.O. Wilson:  "We did not come to this planet as aliens." The poems in this volume speak to the intimate connection between human beings and the rest of the natural world, between ourselves and figures of the past. The poet acts as observer, companion, friend, lover, daughter, sister, mother, and fellow writer. She addresses a wide variety of creatures—from a blue chicory flower to a great blue heron, from Socrates in the underworld to a grandchild gestating in her mother's womb.
Becky Gould Gibson is the author of Heading Home (Main Street Rag, 2014), winner of the 2013 Lena Shull Book Contest; Aphrodite's Daughter (Texas Review Press, 2007), winner of 2006 X. J. Kennedy Prize; Need-Fire (Bright Hill Press, 2007); and First Light (Emyris Press, 1997). Her work often invokes the stories of women in history and myth.  Gibson taught literature and writing at Guilford College until her retirement in 2008. She then served as the Gilbert Chappell Distinguished Poet for the Central District from 2009 to 2011. She is the recipient of the North Carolina Poetry Society's 2008 Brockman-Campbell Award and lives in Winston-Salem, North Carolina.