Compiled and written by Barbara Presnell
Editors: Susan Meyers, Bill Griffin, and Sharon Sharp
Advisors: Bill Blackley, Pat Riviere-Seel, Sharon Sharp, Bill Griffin
Photos: Ed Seel
The "first business" of a North Carolina Poetry Society must be "the extermination of the maundering imbecility, the sniffling puerility, the sloppy sentimental, the bun, bosh and tommyrot that pass for poetry in North Carolina," wrote Gerald W. Johnson, native North Carolinian, journalist, and Wake Forest graduate in 1922. Ten years later, the North Carolina Poetry Society (NCPS) headed out on its 80-year journey of excellence. No decade better represents the NCPS's commitment to serious, nationally recognized poetry than the years between 2002 and 2012. Throughout its 80 years, the NCPS has maintained a strong presence across the state and continues to serve poets in a variety of ways.
Contests, Awards, Recognition
Annual writing contests for adults and children have remained one of the most popular outreach programs of NCPS. Each May the Weymouth Center for the Arts & Humanities, in Southern Pines, fills with adult and student poets from across the state. Writing is supported by teachers and parents who often accompany the winning poets. Members in attendance are treated to an inspiring and entertaining program of readings. Endowments to support the contests have shifted over the last ten years and new sponsors have stepped forward to help fund contests.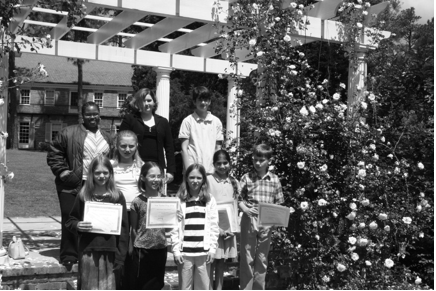 Programs Old and New
While the most visible of NCPS offerings may be the contests, it is our programming that has set this decade apart from others. With the energy and innovation of a succession of active and involved presidents, a number of new initiatives began and traditional activities were energized and renewed.
This Is the Place Where I Live
After much dedication and hard work by a small group of members, the successful publication of Word and Witness: 100 Years of North Carolina Poetry took place in 1999. The book's release was followed by a Touring Theatre of North Carolina (TTNC) production of over 50 of the poems combined with original songs, adapted by TTNC founding director Brenda Schleunes. Titled This Is the Place Where I Live, the production was performed 38 times in 26 cities. While the publication itself marked the end of the previous decade, its influence powered the next ten years and re-established the NCPS as a group with serious intent. Much of the growth that followed must be credited to the recognition and enthusiasm that began with that momentous anthology.
Sam Ragan Poetry Festival
During the presidency of Sharon Sharp, 2000—02, the summer gathering typically scheduled for June was reimagined, adopting the name "Sam Ragan Poetry Festival," and designed to celebrate the legacy of Sam Ragan, legendary newspaper editor and North Carolina's poet laureate from 1982 to 1996. The next decade of festival years experienced a resurgence of energy, transformed from one of the most poorly attended to perhaps the most popular of annual meetings, and has come to be associated with music by a collection of NCPS poets and the wearing of bow ties and straw hats, reminiscent of Sam Ragan.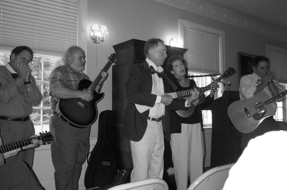 A highlight of Pat Riviere-Seel's presidency was the 2005 Sam Ragan Poetry Festival. That year all Pinesong/ AWP dedicatees were invited as special guests. Pat writes, "Many came, including Ellen Johnson-Hale, who had terminal lung cancer. It may have been her last public appearance. She died shortly after that, but I think everyone at that meeting realized how special her appearance was that year." Those who remember Ellen Johnson-Hale recognize that her love for poetry and generosity in sharing it with others represents the transformative spirit of the last decade of NCPS.
Program Endowment Campaign
Sharon Sharp ended her tenure with the successful launch of a three-year Program Endowment Campaign, from 2002—05. The Board saw the need to offer more substantial honoraria to notable speakers and poets at the Weymouth meetings, and to provide travel expenses. Under the leadership of Chairwoman Lois Holt, the fund permanently established long-term financial support for programming at NCPS events. Others involved in the formative efforts were Kay Cheshire, Sally Logan, and Sally Buckner. The fund currently exceeds ten thousand dollars; its annual income is used to support at least one prominent poet each year for readings and workshops at the Weymouth Center.
Gilbert-Chappell Distinguished Poet Series
Under the presidential leadership of Bill Blackley, 2002—04, and with the creative innovation of then state poet laureate, Fred Chappell, the Gilbert-Chappell Distinguished Poet Series began after its 2003 board approval. Since 2003, the series has matched a successful North Carolina poet with as many as three student mentees and one adult in each of the three designated geographical regions in the state. The pairs work together for the year, and at its conclusion, give a public reading in each student's home library. The purpose of the series is multifaceted. As stated by its founders, the goal of the Gilbert-Chappell Distinguished Poet Series (GCDPS) is to support the mission of the North Carolina Poetry Society (NCPS), that being to foster the reading, writing, and enjoyment of poetry across the state, with the following priorities:
• Increase outreach across the state
• Involve students new to the NCPS
• Provide expert guidance to promising student poets
• Increase skills of poets, both student and adult
• Develop new venues for student poets and experienced poets to read together
• Provide opportunities for student poets to read at local venues, such as their local libraries
• Develop mentoring relationships between student poets and experienced poets.
Without the financial support of Marie Gilbert (1924—2006) the series would not have been possible. After her death, her family generously decided to continue support of the series in her memory. Interesting to note is that all of our four state poets laureate have served as scholars for the program.
Mountain Gathering and Walking into April
Two outreach programs begun in 2002 during Bill Blackley's tenure were designed to include poets and writers from both the coast and mountain regions of the state, areas where residents expressed the need for more programming. Mountain Gathering recorded successful attendance and accolades, but the program ended in 2005. Walking into April, held annually at Barton College in Wilson, NC, continues to thrive. This year marked the ten-year anniversary, combining sponsorships of NCPS, the Gilbert-Chappell Distinguished Poet Series, and the Barton College Sam and Marjorie Ragan Writing Center. In 2004, the NCPS also co-sponsored the Carl Sandburg Poetry Festival, held at Flat Rock, NC.
Adoption of Revised Bylaws
The first action of the May 2005 board meeting under the leadership of Pat Riviere-Seel was to adopt new bylaws—the culmination of many Board discussions and the three-year committee efforts of Dave Manning, Sharon Sharp, and Janice Sullivan. The committee, chaired initially by Sharon and later by Dave, shaped multiple drafts via e-mail and held a number of meetings, including one all-day Saturday meeting at Bill Griffin's church where group members fine-tuned the details of the new bylaws.
Communication among Poets
Gerald A. Johnson might have found North Carolina poets in 1922 to be incapable of clear and direct communication, but combined efforts today indicate a vibrant and connected statewide organization. A number of publications keep members informed and involved. These include Pinesong (formerly Award Winning Poems), an annual anthology of contest winners; and a newsletter, Pine Whispers, published and distributed to members three times a year, which includes announcements, upcoming programming information, and contributed writing by members.
Ray Dotson designed the first NCPS website in 1998. Building on Ray's work and many subsequent years of development and enhancement by Earl Huband, NCPS webmaster Cari Grindem-Corbett rebuilt the site in 2010. The site is now maintained by Cari, who continually updates it with lists of programs, contests, award winners, kudos to members' successes, and lists of opportunities across the state.
The eMuse, a monthly newsletter of opportunities and announcements compiled by Andrew Stieneke, maintains the NCPS's online presence with links to Twitter and Facebook. You can like us on Facebook now! No need to attend a meeting or mail a check to the membership chair. Members can now renew and potential new members can join—or make a donation—through a PayPal link on the NCPS website.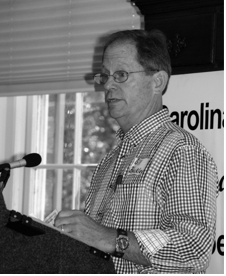 A Note from Treasurer Bill Griffin
The North Carolina Poetry Society is an organization whose financial support comes from members and generous donations. Bill Griffin, who served as treasurer during the 2002–12 span and continues in that role, assesses the decade with these words:
Despite the unpredictable economy of the past few years, and despite poor returns on our Endowments, NCPS remains fiscally sound. We have had a steady increase in our operating funds and our reserve funds each year. For this year's eightieth anniversary readings across the state, we have allocated more than two thousand dollars from our reserves to support the poets who will be participating and to assure an inspiring celebration for all who attend. As treasurer of NCPS for the past decade, I simply thank all those who have given so much of their time, energy, and resources to make this a wonderful organization.
Our hearty thanks go to Bill for keeping us fiscally sound through our seventieth decade.
Consistency and Change
Annual NCPS meetings continue to be held in January, March (Sam Ragan Poetry Festival), May (Awards Day), and September at the Weymouth Center in Southern Pines, NC, and are attended by a group diverse in age, gender, and region of origin. Strong relationships with the North Carolina Writers Network, the North Carolina Writers Conference, ARTS North Carolina (the statewide advocacy group), the NC Center for Non-profits, and other organizations and groups continue to build the NCPS's importance in the state and secure a growing reputation as an energetic group at work.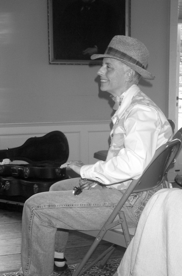 Important to the growth in breadth and diversity for the NCPS was the decision to end student fees for the student writing contests held each year. The result was a boom in both entries and quality of writing. Many winners of the student contests, whose poems appear in Pinesong, have gone on to earn Scholastic Gold Medals and Congressional Medals of Honor for their work.
Under the creative direction of Sara Claytor, McIntyre's Fine Books at Fearrington Village in Chatham County hosts monthly readings by NCPS members with new books, and the events are guaranteed to be lively and entertaining.
A history of the seventh decade of NCPS would not be complete without mention of many of its long-serving volunteers. Guy and Carolyn York, as membership co-chairs through most of the decade, brought the membership to the 21st century by creating an online database. As noted earlier, Bill Griffin served throughout the decade as treasurer and continues in that position.
And Finally…
As we stand on the brink of the NCPS's 80th anniversary, there is no more important question to ask than, "Well, have we succeeded?" Have we, as Gerald Johnson hoped we would, exterminated the so-called "bun, bosh and tommyrot" called poetry across this state? It is the opinion of this writer that we have not only succeeded but exceeded Johnson's expectations and helped create the "writingest state" of North Carolina.
Yes, Gerald Johnson, there is such a thing as quality poetry in North Carolina, and to find it, come to the North Carolina Poetry Society as it begins its 81st year.
References
Fitzpatrick, Vincent. Gerald W. Johnson: From Southern Liberal to National Conscience. Baton Rouge: LSU Press, 2002.
Gilbert-Chappell Distinguished Poet Series. 2012. Web. 24 Dec. 2012.
North Carolina Poetry Society. 2010. Web. 24 Dec. 2012.
And Bill Blackley, Bill Griffin, Pat Riviere-Seel, Sue Farlow, and Sharon Sharp.
A Decade of Presidents
2002-04—Bill Blackley
2004-06—Ann Garbett (resigned, 2005. Pat Riviere-Seel served as Interim from 2005-06)
2005-07—Pat Riviere-Seel
2007-09—Sue Farlow
2009-2011—Anthony Abbott
2011-12—Priscilla Webster-Williams (resigned, 2012. Lisa Zerkle served as Interim from 2012-13)