Upcoming NCPS Meeting Information
NCPS Meetings are held at beautiful Weymouth Center for the Arts & Humanities, in Southern Pines, NC. For Directions to Weymouth, see our directions page.

Saturday, March 19th, 2016
Sam Ragan Day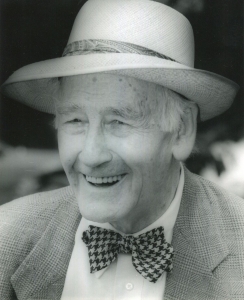 Join us at beautiful Weymouth Center for the Arts & Humanities for a special day of contemporary poetry and storied history. 
Learners & Mentors 
A special note from NCPS 1st Vice President of Programming, Richard Krawiec:
"When I first moved to North Carolina,  I was working on a novel that would later be published by Viking Penguin, but at the time, I'd only had a few short stories published. I came to the Weymouth Center to display a Traveling Literary Magazine Festival funded by the NCAC.  It was here that I first met Sam Ragan, who invited me to visit him at The Pilot.
Sam was — along with people like Lee Smith, Reynolds Price, Fred Chappell, Ron Bayes,  Shelby Stephenson and others — one of the state's best and most established writers who made it a point to make younger writers, those still learning their craft, feel welcome into the writing community.
Those of us still learning were honored to be encouraged by those we respected for being more experienced and more skilled than us." 
In the spirit of Sam Ragan's generosity and support, we present Learners & Mentors, a program that will feature teachers and students from three of North Carolina's most respected campus-based MFA programs: North Carolina State University, the University of North Carolina at Greensboro, and the University of North Carolina at Wilmington. John Balaban will be bringing students from NCSU; Ansel Elkins, from UNC-Greensboro; and Michael White will be bringing his students from UNC-Wilmington.
Students will read from their work in the morning, then form a panel to discuss writing and learning poetry, and working with a teacher or mentor.  John, Ansel, and Michael will read in the afternoon.We hope you will join us for this day of mentoring, teaching, learning, and sharing — all under the celebration of the man and the day that has inspired us: Sam Ragan Day.
---
Saturday, January 16, 2016
---
AGENDA
 9:15 – Registration begins. Order a box lunch ($10, cash or check) until 10:10 am. Pay your annual dues, browse the displays of eight North Carolina literary presses.
10:00 Business Meeting. David Radavich, President, presides.
10:20   Metta Sama will offer a presentation and writing activity on "Hands in the Air:  Surrender & Resistance." Metta will discuss the ways in which poetry acts as both resistance and surrender, how poets enact activism in their art, and the importance of poetry in times of turmoil. A writing prompt will close her session.
11:30 – NCPS members will read their poems started from the workshop prompt.
12:00 Eat lunch! Buy books, socialize, and enjoy the gardens.
Also, visit the Publisher displays from Backbone Press, Carolina Wren Press, Horse and Buggy Press, Jacar Press, Longleaf Press, Sable Books, St. Andrews University Press, Unicorn Press.
1:00 Announcements
1:15   Shadab Zeest Hashmi – Middle Eastern Poetic Forms. Pakistani-American poet Shadab Zeest Hashmi will read from her own work, and the work of other poets, as she discusses a variety of forms originally created or used by poets from the Middle East.
2:00 Book signing by featured poets. Browse the North Carolina publisher tables.
2:15  Open mic
Featured presenters, Metta Sáma & Shadab Zeest Hashmi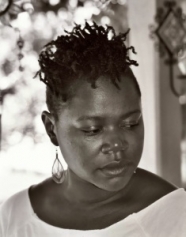 Metta Sáma is author of le animal & other creatures (Miel Books), After "Sleeping to Dream"/After After (Nous-Zot), Nocturne Trio (YesYes Books) & South of Here, published under her legal name, Lydia Melvin, by New Issues Press. Her poems, fiction, and creative nonfiction essays have been published in Heir Apparent, Valley Voices, Puerto del Sol's Black Voices Series, Literary Hub, Kweli, bluestem, Apogee, All About Skin (edited by Jina Ortiz & Rochelle Spencer), Please Excuse This Poem: 100 Poets for the Next Generation(edited by Lynn Melnick & Brett Fletcher Lauer), among others. She has served as special guest editor for Reverie, Black Camera, RedLeaf Poetry Journal and North American Review. She serves on the board of Cave Canem and VIDA and is a Fellow at Black Earth Institute. Sáma is the director of Center for Women Writers and an Assistant Professor and Director of Creative Writing at Salem College.
---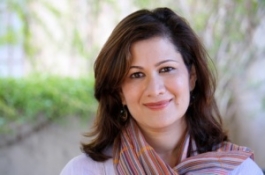 Shadab Zeest Hashmi, winner of the the San Diego Book Award and the Nazim Hikmet Poetry Prize, has been nominated for the Pushcart Prize multiple times. Her work has been translated into Spanish and Urdu, and has appeared in Prairie Schooner, Poetry International, The Cortland Review, Vallum, Nimrod, Atlanta Review, The Bitter Oleander, RHINO, Journal of Postcolonial Writings, Spillway, The Adirondack Review, and Drunken Boat among other journals and anthologies. She represents Pakistan on the website UniVerse: A United Nations of Poetry, and has taught in the MFA program at San Diego State University as a writer-in-residence. She is a guest columnist for 3 Quarks Daily. Kohl and Chalk is her latest book.
---
---
---
PAST MEETING INFORMATION
Saturday, September 19, 2015
AGENDA
---
9:15  Welcome!  Registration begins. Don't forget to order a boxed lunch ($10, cash or check) until 10:10 am. Pay your annual dues.
10:00  Business  Meeting. David Radavich, president of the North Carolina Poetry Society presiding.
10:20  Readings by winners of the Randall Jarrell Poetry Competition, introduced by Charles Fiore, Communications Director for the North Carolina Writers' Network.
Gabrielle Freeman of Greenville, NC, is the winner for her poem, "Failure to Obliterate."
Ann Deagon of Greensboro, was the first runner-up for her poem "Testimony."
Ralph Earle of Apex was second runner-up for "Every Field of Paradise."
Honorable Mentions went to  Michael White for "Blackout"; Malaika King Albrecht for "The Way Desire Touches"; and Luke Hankins for "Divided."
Gabrielle Freeman, Ann Deagon, and Michael White will be present to read.
10:40  Readings by winners of the Brockman-Campbell Book Award
WINNER: Her Small Hands Were Not Beautiful by Kathryn Kirkpatrick
Honorable Mentions: Day of the Border Guards by Katherine E. Young and The Angel Dialogues by Anthony S. Abbott
11:45    Questions  & book signing
12:00  Eat lunch! Buy books, socialize, and enjoy the gardens.
1:00    Announcements
1:15   The Road to the NC Literary Hall of Fame. Reading and discussion by Jaki Shelton Green. 
2:00  Book signing by all featured poets
2:15  Open mic
---
Featured Presenter, Jaki Shelton Green: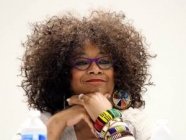 Jaki Shelton Green is a poet, cultural activist, creativity coach, teacher, founder of SistaWRITE and 2014 inductee into the NC Literary Hall of Fame. Jaki's books include Feeding the Light (Jacar Press), Dead on Arrival, Dead on Arrival and New Poems, Conjure Blues, singing a tree into dance, and breath of the song (all published by Carolina Wren Press).
She received the 2010 Fine Arts Emerald Award (Raleigh LINKS), and in 2009, was selected first NC Piedmont Laureate. She was honored with the Sam Ragan Award for contributions to the Fine Arts of North Carolina in 2007. In 2003, she received the North Carolina Award for Literature and was inducted into the North Caroliniana Society.
As community arts advocate, Jaki Shelton Green creates and facilitates programs that serve diverse audiences and populations: incarcerated, homeless, chronically and mentally ill, survivors, elderly, public and private schools, teachers, hospice care providers, substance abuse counselors, literacy programs, libraries, universities, humanities councils, community economic development, social justice nonprofits, and libraries.
Her poetry has been widely choreographed by numerous dance companies including Danca Nova at Naropa Institute for the Arts, The Chuck Davis African-American Dance Company at The Kennedy Center, Miami City Ballet, Two Near the Edge, and Choreo Dance.
---
BROCKMAN CAMPBELL WINNER
Kathryn Kirkpatrick is a Professor of English at Appalachian State University where she teaches environmental literature, creative writing, and Irish studies. She has a Ph.D. in Interdisciplinary Studies from Emory University, where she received an Academy of American Poets poetry prize.  Her poetry collections include The Body's Horizon (1996), which was selected by Alicia Ostriker for the Brockman-Campbell award; Beyond Reason (2004), which was awarded the Roanoke-Chowan Poetry Prize by the North Carolina Literary and Historical Association; Out of the Garden (2007), which was a finalist for the Southern Independent Booksellers Association poetry award; Unaccountable Weather (2011); Our Held Animal Breath (2012) which was selected by Chard DeNiord for the Brockman-Campbell Award; and Her Small Hands Were Not Beautiful (2014).  She has held writing residencies at Norton Island in Maine and the Tyrone Guthrie Center in Ireland. As a literary scholar in Irish studies and the environmental humanities, she has published essays on class trauma, eco-feminist poetics, and animal studies.  She is the editor of Border Crossings: Irish Women Writers and National Identities and co-editor with Borbala Farago of Animals in Irish Literature and Culture (2015).
Comments from Final Judge Carolyn Kreiter-Foronda
"In Her Small Hands Were Not Beautiful, Kathryn Kirkpatrick relies on impeccable research and a keen insight into the intricacies of form to enliven figures as engaging as William Butler Yeats, the Irish revolutionary Maud Gonne, and Queen Maeve. Especially laudatory is the author's typographical arrangement in the artistic rendering of Maud Gonne, whose personality comes to life through a dramatic rendering of voices, fine-tuned and sculpted from snippets of unpublished interviews. Kirkpatrick possesses the mental acumen to pace this perceptive poem so that it skillfully illuminates Gonne's traits as viewed by family, friends, and others. Throughout the book, the author enthralls the reader with well-honed gems that sing of her familiar connections to Ireland while revealing a masterful command of language."
---
BROCKMAN CAMPBELL HONORARY MENTION
Katherine E. Young is the author of Day of the Border Guards (University of Arkansas Miller Williams Prize Series, 2014), one of Split This Rock's "eagerly anticipated" picks for 2014 and one of Beltway Poetry's "Best Books of 2014″; she has also published two chapbooks. Young's poems, translations, and reviews have appeared in Prairie Schooner, Shenandoah, The Iowa Review, and many others. Her translation of Russian poet Xenia Emelyanova won third place in the 2014 Joseph Brodsky-Stephen Spender Prize competition. Her translations of Inna Kabysh won third place in the 2011 Joseph Brodsky-Stephen Spender Prize competition and were commended by the judges of the 2012 Brodsky-Spender Prize. Young's translations of Vladimir Kornilov appear in The Penguin Book of Russian Poetry. In 2015 she was named a Hawthornden Fellow.
 The judge's comments:
"Katherine E. Young's Day of the Border Guards is a commendable book reflecting an astute understanding of Russia, its history, and countrymen. A skilled craftsperson, the author ingeniously creates poems that bear witness to a compelling past. Here is a poet capable of unveiling humanity with a vibrancy that lingers. Even a dezhurnaya—or museum docent/guard—gains relevance alongside figures as eminent as Osip Mandelstam and Mikhail Lermontov.  Here is a writer, whose lyricism resonates in the reader's mind long after closing the book.."
---
BROCKMAN CAMPBELL HONORARY MENTION
Anthony S. Abbott has published  7 books of poetry, most recently The Angel Dialogues. The Man Who, won the 2005 Oscar Arnold Young Award of the N.C. Poetry.  If Words Could Save Us, was the 2011 co-winner of the Brockman-Campbell Award.  He is past President of the Charlotte Writers Club and the North Carolina Writers Network and also past Chairman of the North Carolina Writers Conference. He served from 2009-2011 as the President of the NC Poetry Society.  He and his wife Susan live in Davidson. They have three sons and seven grandchildren.
The judge's comments:
"A first-rate narrator, Anthony Abbott offers his readers a bounty of wisdom in his cleverly designed book, The Angel Dialogues.  Early on, he introduces an angel, or heavenly guide, whose witty retorts contain valuable lessons that stare us in the face with truths about humankind.  I applaud Abbott for employing humor and a unique structure as well as for incorporating an ingenious muse, who addresses an array of concerns that apply to those of us easily disrupted by the dailiness of life. This is an admirable collection worthy of praise."
---
 RANDALL JARRELL POETRY AWARD WINNER BIOGRAPHIES
Gabrielle Freeman's poetry has been published in many journals including Hobart, Shenandoah, storySouth, and Waxwing. She is the winner of the 2015 Randall Jarrell Poetry Competition, she has been nominated twice for the Best of the Net, and she was a finalist in 2014. Gabrielle lives with her family in Eastern North Carolina.
 Well known to the NC Poetry Society, Ann Deagon has published many poetry collections, including Carbon 14, Poetics South, There Is No Balm in Birmingham, and The Polo Poems. She also writes fiction and drama. Among her awards, in 2011 she was the honoree of the North Carolina Writers Conference Ashville meeting and was named Gilbert-Chappell Distinguished Poet for 2012 and 2013.
In 2015, Ralph Earle won the Sable Books chapbook contest for his manuscript, The Way the Rain Works. His work has also been published in The Sun, Sufi Magazine, Tar River Poetry, Carolina Quarterly, as well as numerous anthologies. He is a poet, teacher, and software developer, and currently resides in Apex, N.C., where he finds much of his inspiration.