NCPS Meetings are held at the Weymouth Center for the Arts and Humanities, in Southern Pines, NC. For Directions to Weymouth, see our directions page.
We also sponsor a monthly reading series in the spring, summer, and fall, in Chatham County. For more information about that, visit NCPS Readings at McIntyre's Fine Books.
Upcoming NCPS Meetings:
NCPS Winter Meeting
Saturday, January 18, 2014
Weymouth Center for the Arts and Humanities, Southern Pines, NC
Our next NCPS meeting on January 18, 2014 will feature an exciting mix of the young and the young in spirit. In the morning, L. Lamar Wilson will read from his prize-winning first collection, Sacrilegion, chosen by Carolina Wren Press for its Poetry Series in 2012. According to Lee Ann Brown, "Sacrilegion chants new songlines of the sacred and profane, radiating legions of regions we must all negotiate together. Love, life, identity and language wrestle and riff here with pure expressive power." A number of well-known poets have commented favorably on this book, which recently won an "IPPY" Bronze Medal in Poetry from the Independent Publishers Group.
Following Open Mic and informal lunch at Weymouth house and gardens, young-at-heart William Harmon will conduct a workshop, "Revising the Poem," using his recent portfolio edition of "Buzzard's Luck" as a launching-off point. This beautiful folio edition, published by Larch Tree Press of Ithaca, New York in 2012, contains four successive versions of this single poem, including the very first draft, two intermediate drafts, and the finished poem. It is a journey many of our best poets undertake, trying to find the "real expression" under the rough exterior of the first draft. Harmon will broaden the discussion from his own experience to discuss ways poets can tease out the better words and images of their natures and help the poem evolve into its best form.
L. Lamar Wilson is an up-and-coming poet whose first collection, Sacrilegion, was selected by Lee Ann Brown for the Carolina Wren Press Poetry Series in 2012. He has poems in or forthcoming in African American Review, Los Angeles Review, jubilat, The 100 Best African American Poems, The New Sound, Black Gay Genius, and other journals and anthologies. Individual poems have been nominated for the Pushcart Prize and won the 2011 Beau Boudreaux Poetry Prize. Wilson has received fellowships from the Cave Canem Foundation, the Callaloo Workshops, the Alfred E. Knobler Scholarship Fund, and the Arts and Sciences Foundation at the University of North Carolina at Chapel Hill, where he is pursuing a doctorate in African American and multi-ethnic American poetics.
William Harmon has enjoyed a long and distinguished career in writing and teaching. Born in Concord, NC, he graduated from the University of Chicago in 1958. He has published five books of poetry, including Treasury Holiday, which won the distinguished Lamont Poetry Prize in 1970. Mutatis Mutandis: 27 Voices won the Poetry Society of America's William Carlos Williams Prize in 1985. He has published four anthologies, a guide to poetry, and eight editions of A Handbook to Literature (1985 continuing). He has also written scholarly articles in literary and anthropological journals, reviews, essays, notes, satires, and jokes. Along with Louis Rubin and Lee Smith, he wrote the parodic Uneeda Review (1984). He taught at UNC Chapel Hill for forty years, most recently as James Gordon Hanes Professor Emeritus in the Humanities.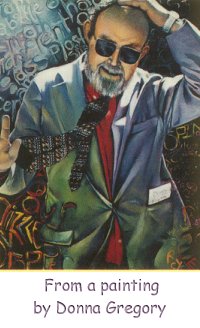 ---
Sam Ragan Poetry Festival
Saturday, March 22, 2014
Weymouth Center for the Arts and Humanities, Southern Pines, NC
---
Awards Day Meeting
Saturday, May 24, 2014 (NOTE: New date. Old date was May 17)
Weymouth Center for the Arts and Humanities, Southern Pines, NC
---
NCPS Fall Meeting
Saturday, September 20, 2014
Weymouth Center for the Arts and Humanities, Southern Pines, NC
---
For a description of previous NCPS meetings, please visit our Previous Meetings page.