The 2017 Brockman-Campbell Book Award was won by Alan Michael Parker's The Ladder. Two other books were recognized with Honorable Mentions: Bright Stranger, by Katherine Soniat and The Door That Always Opens, by Julie Funderburk.  Judge for the Brockman-Campbell Award this year was Maggie Smith.  The winners read from their work at the 16 September 2017 meeting of the Poetry Society at Weymouth Center for the Arts in Southern Pines.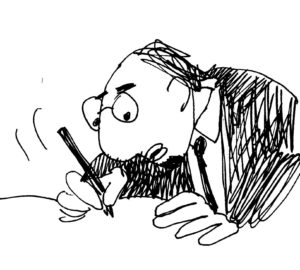 Alan Michael Parker is the author of eight collections of poems, including The Ladder, four novels, (including Christmas in July, forthcoming from Dzanc Books in early 2018), and editor or co-editor of five other works.  Parker has received numerous awards, including three Pushcart Prizes, the 2013 and the 2014 Randall Jarrell Award, and the 2012 North Carolina Book Award for Long Division.  He lives in Davidson with his partner, the artist Felicia van Bork.
Julie Funderburk's is author of the 2016 poetry collection, The Door That Always Opens from LSU Press, as well as a limited-edition chapbook from Unicorn Press.  She is the recipient of fellowships from the North Carolina Arts Council and the Sewanee Writers' Conference, and her work appears in 32 Poems, Blackbird, The Cincinnati Review, Hayden's Ferry Review, and Ploughshares.  She is an Assistant Professor of Creative Writing at Queens University in Charlotte, North Carolina, where she directs The Arts at Queens and currently serves on the Board of Trustees of the North Carolina Writers' Network.
Katherine Soniat's most recent collection is Bright Stranger (LSU).  Her other publications include The Goodbye Animals, The Swing Girl, A Shared Life, A Raft, A Boat, A Bridge, Alluvial, Cracking Eggs, Notes of Departure, Winter Toys and The Fire Setters.  Originally from New Orleans, she taught for twenty years on the faculty of Virginia Tech.   Winner of numerous awards, Soniat and teaches in the Great Smokies Writers' Program at the University of North Carolina at Asheville.
About the Brockman-Campbell Award
Formerly the Zoe Kincaid Brockman Award (1977-1996)
This award is given annually for the book of poetry judged to be the best published by a North Carolinian in the preceding year.
2016 – Domestic Garden by John Hoppenthaler.  Honorable Mention:  strange theater by John Amen; Astir by Kevin Boyle; and Salt Moon by Noel Crook.
2015 – Her Small Hands Were Not Beautiful by Kathryn Kirkpatrick.  Honorable Mention: The Angel Dialogues by Anthony S. Abbott and Day of the Border Guards by Katherine E. Young.
2014 – Placeholder by Charlaine Cadreau and My Dear, Dear Stagger Grass by Susan Laughter Meyers.
2013 – Our Held Animal Breath by Kathryn Kirkpatrick. 
2012 – If Words Could Save Us by Anthony S. Abbott and An Innocent in the House of the Dead by Joanna Catherine Scott (co-winners).  Honorable Mention: Rim by Steve Lautermilch.
2011 – Long Lens: New and Selected Poems by Peter Makuck. 
2010 – The Real Warnings by Rhett Iseman Trull.
2009 – A Necklace of Bees by Dannye Romine Powell.
2008 – Need-Fire by Becky Gould Gibson.
2007 – Keep and Give Away by Susan Meyers.
2006 – Fainting at the Uffizi by Joanna Catherine Scott.
2005 – Possum by Shelby Stephenson.
2004 – The Dark Takes Aim by Julie Suk.
2003 – The Ecstasy of Regret by Dannye Romine Powell.
2002 – Intervale: New and Selected Poems by Betty Adcock.
2001 – Topsoil Road by Robert Morgan.
2000 – Small Potatoes by Mary Kratt.
1999 – Black Shawl by Kathryn Stripling Byer.
1998 – Daylight and Starlight by James Applewhite.
1997 – The Body's Horizon by Kathryn Kirkpatrick.
1996 – Mortal World by Deborah Pope.
1995 – Snake Dreams by Barbara Presnell.
1994 – Waiting to Know the End by Judy Goldman.
1993 – Salt Works by Michael Chitwood.
1992 – The Complete Bushnell Hamp Poems by Stephen Smith.
1991 – The Light as They Found It by James Seay.
1990 – Lessons in Soaring by James Applewhite.
1989 – Beholdings by Betty Adcock and First Light by Jim Wayne Miller.
1988 – Pilgrims by Peter Makuck.
1987 – Birch-Light by R. T. Smith.
1986 – The Work of the Wrench by Charles Edward Eaton.
1985 – Acquist by Elizabeth Sewel.
1984 – The Thing King by Charles Edward Eaton.
1983 – Night Fishing on Irish Buffalo Creek by Stephen Knauth.
1982 – A Coast of Trees by Archie R. Ammons.
1981 – Earthsleep by Fred Chappell.
1980 – Terra Amata by Kathryn Bright Gurkin and Middle Creek Poems by Shelby Stephenson.
1979 – There Is No Balm in Birmingham by Ann Deagon.
1978 – House on the Saco by P. B. Newman.
1977 – Half-After Love by John Moses Pipkin.