The NC Poetry Society sponsored readings all across the state on the weekend of December 1st, to celebrate our 80 years in existence in providing a community in which North Carolina poets can share in their appreciation for the craft of poetry.
Our society began with six people in Edna Wilcox Talley's living room. Thanks for all you do to keep it going strong.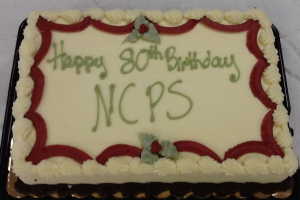 Here's what some folks had to say about a few of the meetings:
Lisa Zerkle (Charlotte Reading): The reading in Charlotte yesterday was terrific. We had over 40 people attending. Tony was a charming host, the readers did a great job, books were sold, donations were made, and we wrapped it up with an open mic. It was a really nice afternoon.
Richard Krawiec (Durham reading): We had a great time, too. 29 people. Most I've seen at the Regulator in a while, so we were thrilled. I am raving about 2 of Betty's ex-students, Noel Crook and Kelly Michel whose poetry was as strong as any I've heard in a reading this year. As were their deliveries. Remember those names.
Malaika King Albrecht (Winston-Salem reading): We had about 40 people in attendance in Winston Salem too. Kevin was a great host, and Fred, as always, was a gracious and humorous master of ceremonies. In addition to Fred, Val, and myself, John Thomas York and Terry Kennedy read. I was lucky to be included with this group… Fred read a poem by Kay Byers in memory of their former teacher and colleague, poet Robert Watson. He also read several of Watson's stunning poems, which just means more books for me to buy. No one wanted the afternoon to end, so quite a few people lingered afterwards at the Community Arts Center with several groups wandering to nearby restaurants for more good conversation. That I couldn't teleport to all of the readings is a disappointment.
Carolyn York (Fountain reading): I could not think of a more joyous celebration of the North Carolina Poetry Society's 80th Birthday than the fest that Guy and I attended in Fountain. The whole trip for us was an exploration, since we had no idea where Fountain might be, but we knew if Shelby were going to be there, it was bound to be fun! We met Alex Albright, our host for the festivities and the owner of R.A. Fountain General Store. He and his wife welcomed us with handshakes and delightfully warm hoop cheese biscuits…R. A. Fountain General Store is a rambling antique and consignment store, a snack shop, and a performance place with velvet covered church pews and old-fashioned paper advertising fans, microphones and a podium, and guitar cases strewn around near the seats – a perfect place for poetry and for music, which we had abundantly. It was so good to see old friends such as Shelby Stephenson and his wife, Linda, whose music always reminds me of warm afternoons at Weymouth. Together, the two of them sparkle. Shelby talked about the founding of NCPS at Edna Talley's home, and he read some poems by Zoe Kincade Brockman from his well-worn copy of A Time for Poetry. Rebecca from Barton College came with Jim Clark, Chair of the English Department, a Tennesseean who gave us the quote I love: "The poem of memory is finding what remains." Marty Silverthorne read some breath-taking selections from a new manuscript, and he introduced us to one of his students. John Hoppenthaller read and reminisced. There was talk of pigs and possums, outhouses and dandelions. The sights and sounds were so stimulating and inspiring – a open mic that gradually became a conversation between old friends and lovers of the word.
We have some pictures loaded on our Facebook page. Click the links below to see them!
Charlotte reading: http://on.fb.me/R52Gdq
Salter Path reading: http://on.fb.me/12AbYka